26.05.2023

ECCELLENTE VENDITORE : IL TOP IN MERITO A CURA, RAPIDITĄ E QUALITĄ DEL PRODOTTO. [...]

25.05.2023

Ottima comunicazione, disponibilitą e cortesia. Grazie

25.05.2023

Venditore da 10 in pagella consigliatissimo! oggetto arrivato in tempo brevi con imballaggio a prova di bomba! Grazie [...]

25.05.2023

Estrema gentilezza. Grazie ancora.

25.05.2023

Ottima transazione, grazie!!
Elenco completo »
D&D Icons of the Realms Mythic Odysseys of Theros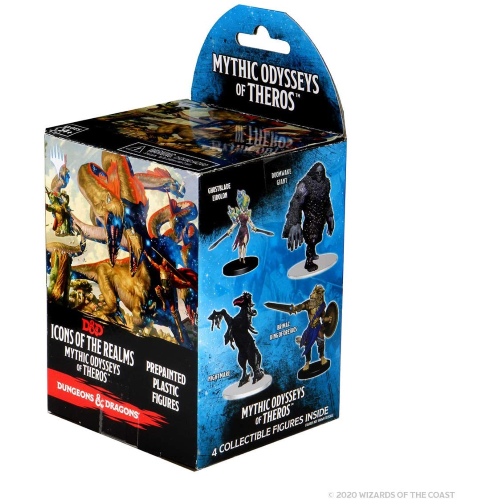 Prezzo:

€

19,90

Iva inclusa (22%)

Spese di trasporto:
Cod. art.:
WIZ96005
Disponibilitą:

Disponibile

Quantitą:
Descrizione
Collect all 45 figures from Mythic Odysseys of Theros, the latest set of randomly sorted heroes and monsters in our exciting line of D&D miniatures, Icons of the Realms.
Legends walk the lands of Theros, a realm shaped by deities and the deeds of heroes. From the temples of omen-speaking oracles to the five realms of the Underworld, the champions of the gods vie for immortal favor and a place among the world's living myths. What legends will you challenge-mighty heroes, inevitable prophecies, or titans imprisoned by the gods? Where will destiny and immortal schemes lead you? And what tales will you leave behind, celebrated in the pantheon of myths and writ among the eternal stars? Mythic Odysseys of Theros includes exciting new monsters like the Night Hag and the terrifying Doomwake Giant. Theros' mightiest heroes also make an appearance, including Brimaz, King of Oreskos and Taranika, Regent of Akros. This set also includes several Nyxborn creatures for your adventures, like Arasta of the Endless Web and the Chromanticore!
Questa scatola contiene 4 miniature casuali predipinte