29.09.2023

Ottimo venditore serio e affidabile

29.09.2023

Spedizione fantastica come sempre. Super consigliato!

29.09.2023

Excellent seller, fast and well packed.

29.09.2023

Eccetto una attestazione di consegna pacco alcuni giorni prima da parte di Poste Italiane, è andata tutto bene

29.09.2023

Perfect!
Elenco completo »
D&D Icons of the Realms Eberron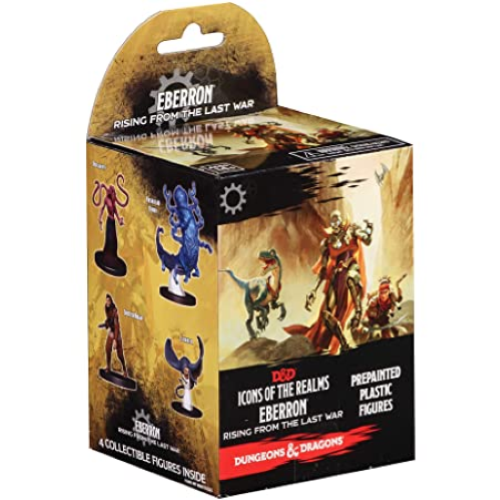 Prezzo:

€

19,90

Iva inclusa (22%)

Spese di trasporto:
Cod. art.:
WIZ74077
Disponibilità:

Disponibile

Quantità:
Descrizione
Enter Eberron, a war-torn world filled with magic-fueled technology, airships and lightning trains, where noir-inspired mystery meets swashbuckling adventure. In this set, miniatures representing the new artificer class, along with miniatures of Shifters and Warforged are available for the first time. Other infamous characters from Eberron, including The Lord of Blades also make an appearance!
Collect all 44 figures from Eberron: Rising From the Last War, the newest set of randomly sorted monsters and races in our exciting line of D&D miniatures, Icons of the Realms.
Questa scatola contiene 4 miniature casuali predipinte