21.09.2023

Perfetto, arrivati subito

21.09.2023

Tutto perfetto

20.09.2023

Venditore serio e affidabile! Top

20.09.2023

tutto ok venditore consigliato

20.09.2023

tutto ok venditore consigliato
Elenco completo »
Bolt Action Manuale Base Seconda Edizione in Italiano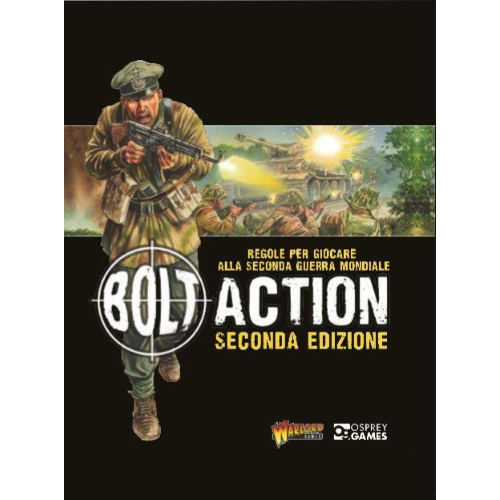 Prezzo:

€ 37,50

Sconto 10%

€

33,75

Iva inclusa (22%)

Spese di trasporto:
Cod. art.:
401050001-1
Disponibilità:

Non disponibile

Quantità:
Descrizione
Dalle città distrutte della Francia occupata, agli aridi deserti del Nord Africa, alle soffocanti giungle del pacifico, Bolt Action fornisce tutte le regole necessarie per portare le più grandi battaglie della Seconda Guerra Mondiale sul vostro tavolo.
Scritto da Alessio Cavatore e Rick Priestley, la selezione degli eserciti è molto versatile, permettendovi di costruire l'esercito che aggrada di più il vostro stile di gioco – a forze di carri armati pesantemente corazzati fino a piccole unità di fanteria altamente specializzate – la scelta è vostra.
The 2nd edition offers the same fantastic World War II gameplay with its exciting order dice system and mixed armies of infantry, tanks and artillery.
Key New Features
Officers activate other units! Used cleverly, this creates a huge tactical shift as you can order multiple units to fire or advance in concert.
Big Explosions! HE fire now uses templates to determine damage - your opponent had better spread out his troops to avoid carnage!
Armed Transports! Once your squad has piled out of its halftrack, the driver can speed around and unleash a hail of lead at the enemy!
Player Feedback! We've listened carefully to the community and taken advantage of the thousands of battles you've played to improve the game in dozens of other ways.
New Army List
The main rulebook now includes a fifth army list - adding Imperial Japan to Germany, Great Britain, USA and the Soviet Union - giving you even more choice for your army.