21.09.2023

Perfetto, arrivati subito

21.09.2023

Tutto perfetto

20.09.2023

Venditore serio e affidabile! Top

20.09.2023

tutto ok venditore consigliato

20.09.2023

tutto ok venditore consigliato
Elenco completo »
Bolt Action Soviet Gaz Truck with Maxim AA MMGs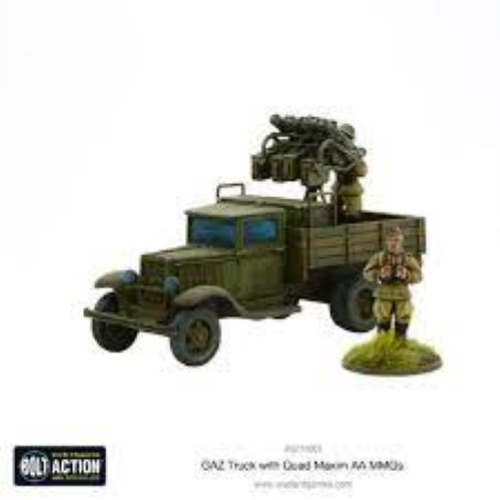 Prezzo:

€ 34,00

Sconto 10%

€

30,60

Iva inclusa (22%)

Spese di trasporto:
Cod. art.:
405114001
Disponibilità:

Disponibile

Quantità:
Descrizione
Metallo
Scala 1/56
Prodotto da assemblare e dipingere, colla e colori non inclusi
The only mobile AA vehicles the Red Army had in numbers at the beginning of Barbarossa in 1941 were truck-mounted examples of the Tokarev 4M Model 1931 quadruple Maxim machine gun. Used throughout the war with later units added to with the American-built M17 half-track.
The quad-mounted anti-aircraft Maxim was developed in 1930 and tested alongside several other quad-, triple- and dualmount weapons, before being adopted by the Red Army in 1931. The water-cooled Maxims were heavy to start with and mounting four of them on a hefty enough pedestal to absorb their recoil produced a weapon that was only suitable for static emplacement or mounting in the back of a truck. Principal service: 1941–45. Numbers manufactured: Unknown.
2 Crew