27.03.2023

rapidissimi e ottimo packaging

27.03.2023

rapidissimi e ottimo packaging

27.03.2023

Ottimo prodotto con il miglior prezzo, soddisfatto

26.03.2023

Tutto perfetto Spedizioni velocissime

25.03.2023

Tutto perfetto !
Elenco completo »
Bagration - Late War Soviet Army Book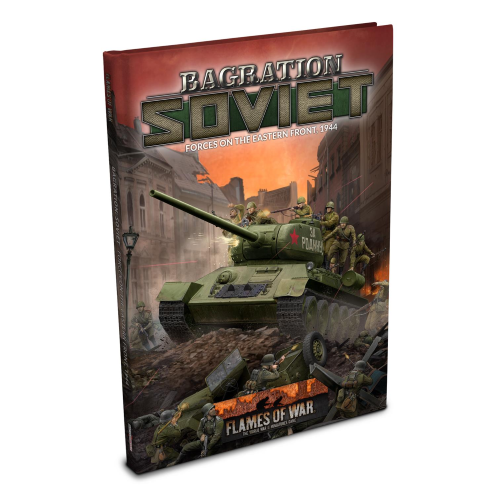 Prezzo:

€

22,00

Iva esente

Spese di trasporto:
Cod. art.:
FW266
Disponibilità:

Non disponibile

Quantità:
Descrizione
With the D-Day series of books coming to a close it is time to shine the spotlight on the Eastern Front. The first in our series of three Bagration books is Bagration: Soviet covering the Soviet forces on the Eastern Front in 1944.This book is jam packed full of interesting Soviet Formations and Units, as well as plenty of background, and three new river crossing themed missions.
The Bagration: Soviet book starts with background covering the pivotal events of Operation Bagration, the Soviet Army's massive offensive against the Germans centred on Byelorussia that began on 22 June 1944.
Check out Bagration: Soviet in the online store here...
The front end of the book also features a comprehensive special rules section, Know your Tanks and Know your Infantry section to familiarise you with what you will find in the following pages.
The Force diagram is packed full of choices with nine Tank, five Infantry, and one Recon formation to choose from, as well as expansive support choices.
You will also find scattered throughout the book plenty more background covering the units and battles of Operation Bagration.