27.03.2023

rapidissimi e ottimo packaging

27.03.2023

rapidissimi e ottimo packaging

27.03.2023

Ottimo prodotto con il miglior prezzo, soddisfatto

26.03.2023

Tutto perfetto Spedizioni velocissime

25.03.2023

Tutto perfetto !
Elenco completo »
Bagration Axis Allies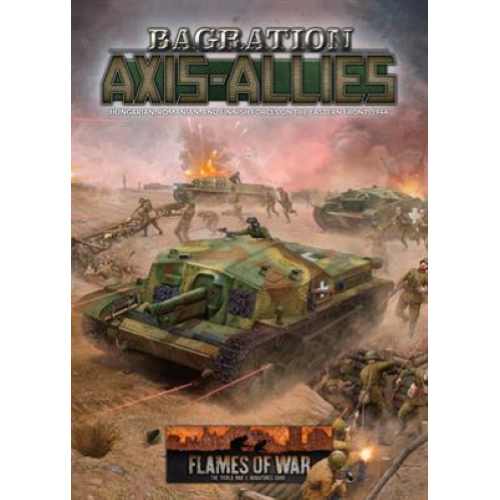 Prezzo:

€

22,00

Iva esente

Spese di trasporto:
Cod. art.:
FW269
Disponibilità:

Disponibile

Quantità:
Descrizione
Inside You Will Find:
- Background on the Finnish, Hungarian, and Romanian Armies during the epic battles for the Eatern Front in 1944 and 1945.
- Instructions on how to build a Finnish T-26 Armoured Company, Sturmi Assault Gun Company and Infantry Company, or a Hungarian - Panther Tank Company, Tiger Tank Company, Turán Tank Company, Panzer IV Tank Company, Zrinyi Assault Gun Company, StuG - Assault Gun Company, Hetzer Assault Gun Company and Rifle Company, or a Romanian R-2 Light Tank Company, T-4 Medium Tank - Company, TA Assault Gun Company, and Motorised Rifle Company.
- Painting and Basing guides.
- Three new Bagration themed Missions.
I clienti che hanno acquistato questo prodotto, hanno scelto anche questi articoli