29.09.2023

Ottimo venditore serio e affidabile

29.09.2023

Spedizione fantastica come sempre. Super consigliato!

29.09.2023

Excellent seller, fast and well packed.

29.09.2023

Eccetto una attestazione di consegna pacco alcuni giorni prima da parte di Poste Italiane, è andata tutto bene

29.09.2023

Perfect!
Elenco completo »
Bolt Action German Heer Winter Starter Army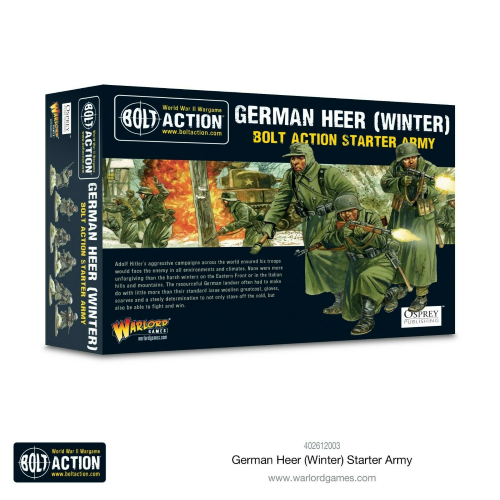 Prezzo:

€ 139,00

Sconto 10%

€

125,10

Iva inclusa (22%)

Spese di trasporto:
Cod. art.:
402612003
Disponibilità:

Disponibile

Quantità:
Descrizione
This boxed set contains;
6 plastic German Grenadier Sprues
German Heer 81mm Mortar Team
German Heer MG42 Team
German Heer Pak 40 Anti-tank Gun with Crew
Plastic Puma kit
Plastic Stug III G/StuH42 kit
Bolt Action stat cards
Vehicle damage markers
Please note that the 6 sprues of German Grenadiers contain enough components to make 36 models - so you will have 3 extra men - perhaps to create a FOO, Medic, or other additional units to further bolster your force.