24.09.2023

Servizio top

22.09.2023

Acquisto rapido, tutto come promesso A+++

22.09.2023

PERFETTO

22.09.2023

tutto perfetto

22.09.2023

Ottimo prodotto, venditore cortese e disponibile, pronto a risolvere qualsiasi problematica.
Elenco completo »
Bolt Action Polish Army 75mm Light Artillery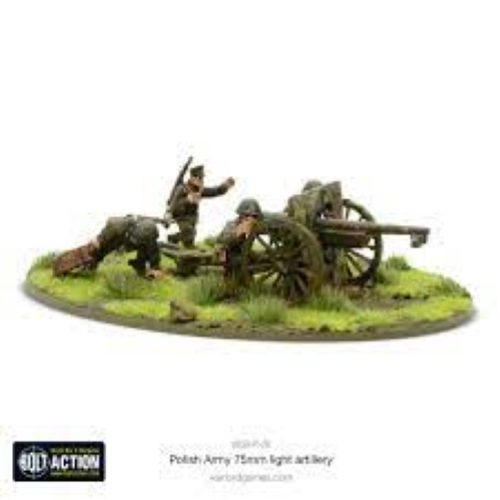 Prezzo:

€ 27,00

Sconto 10%

€

24,30

Iva inclusa (22%)

Spese di trasporto:
Cod. art.:
WGB-PI-28
Disponibilitą:

Disponibile

Quantitą:
Descrizione
Scale: 28mm
The famous 75mm Mle 1897 field gun of the Great War served France and other countries well in the Second World War. Used extensively throughout WWII this model was reliable and could act in anti-tank gun or field artillery roles.
In Polish service the gun was known as the 75mm armata wz. 1897 (1897 Pattern cannon). At the beginning of hostilities in Poland in 1939 the Polish army had well over a thousand of this gun at its disposal.
Many Polish armata wz. 1897 retained their original spoked wheels as opposed to the newer pneumatic tyres which were mainly used in the mobile batteries of two Polish motorized brigades.
Contains: 1 metal gun, 3 metal crew and individual plastic bases
This product is supplied unassembled and unpainted. Glue and paints not included.