29.09.2023

Ottimo venditore serio e affidabile

29.09.2023

Spedizione fantastica come sempre. Super consigliato!

29.09.2023

Excellent seller, fast and well packed.

29.09.2023

Eccetto una attestazione di consegna pacco alcuni giorni prima da parte di Poste Italiane, è andata tutto bene

29.09.2023

Perfect!
Elenco completo »
Black Powder Cavalry of the Sun King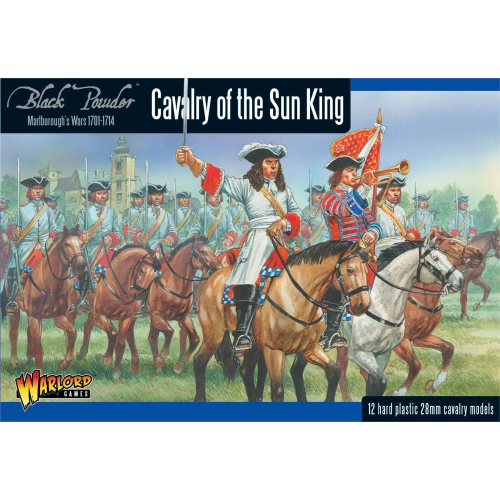 Prezzo:

€ 29,00

Sconto 10%

€

26,10

Iva inclusa (22%)

Spese di trasporto:
Cod. art.:
302015005
Disponibilità:

Disponibile

Quantità:
Descrizione
Scale: 28mm
12 Cavalry
Plastica
Prodotto da assemblare e dipingere, colla e colori non inclusi.
Within this boxed set you will find all the parts necessary to recreate many of the cavalry squadrons that fought for Louis XIV. Each box is designed to allow you to create a 12-strong squadron, consisting of nine cavalrymen, one standard bearer, one bugler and one officer.
Sword arms and pistol arms are included to allow you to choose which tactics your cavalry will employ. Will it be pistols at the trot, or swords in a headlong charge?
Contains:
12 plastic cavalry including officer, bugler and optional standard bearer. Options for cuirassiers, dragoons, horse grenadiers and line cavalry regiments.
4-page background and construction leaflet including eight full-colour flags/guidons.