21.09.2023

Perfetto, arrivati subito

21.09.2023

Tutto perfetto

20.09.2023

Venditore serio e affidabile! Top

20.09.2023

tutto ok venditore consigliato

20.09.2023

tutto ok venditore consigliato
Elenco completo »
Bolt Action M11/39 Medium Tank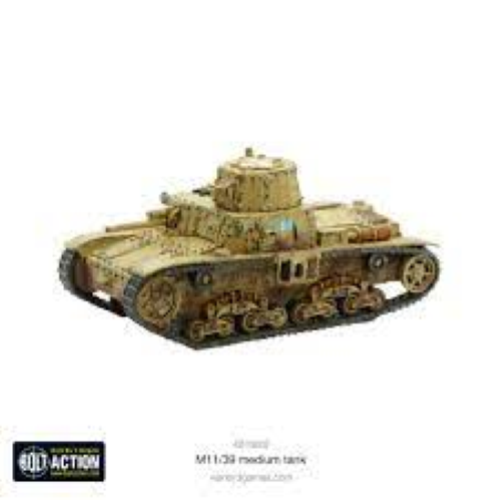 Prezzo:

€ 31,00

Sconto 10%

€

27,90

Iva inclusa (22%)

Spese di trasporto:
Cod. art.:
405108002
Disponibilità:

Disponibile

Quantità:
Descrizione
Sccala 1/56
Resina e metallo
Prodotto da assemblare e dipingere, colla e colori non inclusi
Heavily influenced by the design of the British 6-tonne tank the M11/39 the resultant M11/39 was the first modern gun armed Italian tank and would replace the numerous outdated L3 tankettes in the Italian Regio Esercito. A medium tank with a pair of turret-mounted machine guns, designed to protect the tank from infantry assault, and a 37mm gun or 47mm gun mounted in the hull (for engaging hard targets), an operational range of 12 hours, and capable of around 30-35 kph it saw action in East and North African campaigns.
Although envisioned as a breakthrough tank, the M11/39's career was cut short with the introduction of the M13/40, which was built on the same chassis. By the time the M11/39 saw any substantial combat against the British, the model made little impact, as the much heavier Matilda tanks simply struck them aside. Their use as static defences was ill-suited to the tank's design.
Famously, a few M11/39s fell into Australian hands and were quickly pressed into service alongside M13/40 medium tanks they had also acquired. Painting large white kangaroo emblems on all sides to avoid friendly fire...