21.09.2023

Perfetto, arrivati subito

21.09.2023

Tutto perfetto

20.09.2023

Venditore serio e affidabile! Top

20.09.2023

tutto ok venditore consigliato

20.09.2023

tutto ok venditore consigliato
Elenco completo »
Bolt Action Italian Bersaglieri Starter Army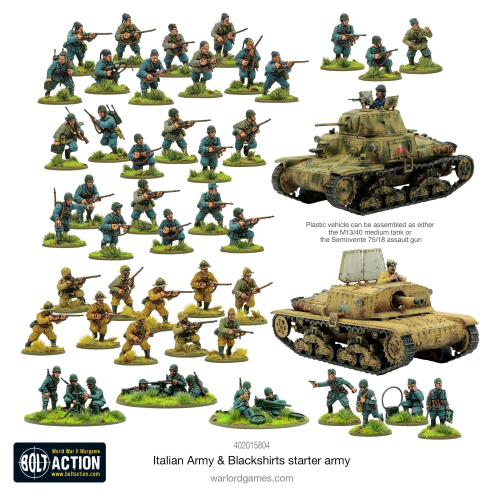 Prezzo:

€ 108,00

Sconto 10%

€

97,20

Iva inclusa (22%)

Spese di trasporto:
Cod. art.:
402015805
Disponibilitą:

Non disponibile

Quantitą:
Descrizione
Scale: 28mm - 1/56th
This Bolt Action starter army contains the following 28mm models:
36 multi-pose plastic Italian Bersaglieri infantry
1 plastic 1/56th scale Semovente 75/18 assault gun (or can be built as a M13/40 medium tank)
Metal figures for two officers, one medic, one spotter, an MMG team, a medium mortar team and a 20mm anti-aircraft gun team
Also includes plastic bases decals stat cards and vehicle damage markers.
This product is supplied unassembled and unpainted. Glue and paints not included.