26.05.2023

ECCELLENTE VENDITORE : IL TOP IN MERITO A CURA, RAPIDITĄ E QUALITĄ DEL PRODOTTO. [...]

25.05.2023

Ottima comunicazione, disponibilitą e cortesia. Grazie

25.05.2023

Venditore da 10 in pagella consigliatissimo! oggetto arrivato in tempo brevi con imballaggio a prova di bomba! Grazie [...]

25.05.2023

Estrema gentilezza. Grazie ancora.

25.05.2023

Ottima transazione, grazie!!
Elenco completo »
Classical Greek Phalanx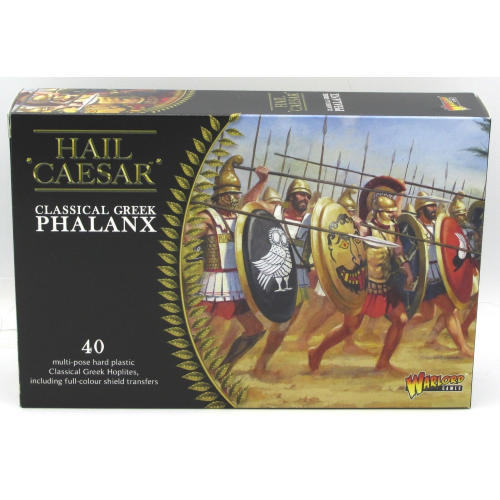 Prezzo:

€ 31,00

Sconto 10%

€

27,90

Iva inclusa (22%)

Spese di trasporto:
Cod. art.:
WGH-GR-03
Disponibilitą:

Disponibile

Quantitą:
Descrizione
Prodotto da assemblare e dipingere, colori e colla non inclusi
Plastica e metallo
This box contains sufficient components to build 40 Hoplites representing warriors of the Greek city states of the era c.450 to 323 BC (from the start of the first Peloponnesian War to the death of Alexander the Great). Included are variants of types of helmets that were in use during these years, such as the Thracian, Pilos and Phrygian styles.
Also included is a sheet of full-colour shield decals, and two sprues of metal arrows to further embellish your shields and bases.