21.09.2023

Perfetto, arrivati subito

21.09.2023

Tutto perfetto

20.09.2023

Venditore serio e affidabile! Top

20.09.2023

tutto ok venditore consigliato

20.09.2023

tutto ok venditore consigliato
Elenco completo »
Bolt Action British Morris Quad C8 Tractor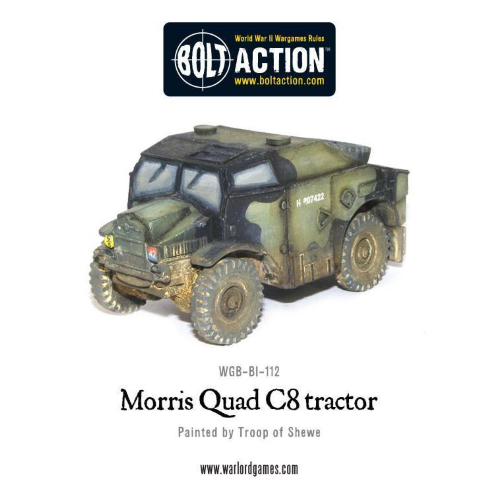 Prezzo:

€ 34,00

Sconto 10%

€

30,60

Iva inclusa (22%)

Spese di trasporto:
Cod. art.:
WGB-BI-112
Disponibilitą:

Disponibile

Quantitą:
Descrizione
Scale: 28mm - 1/56th
1 Vehicle
Metal and Resin
The Morris Commercial C8 FAT (Field Artillery Tractor) commonly known as a Quad was an artillery tractor of the British and Commonwealth forces during World War II. It was used to tow field artillery pieces, such as the 25 pounder gun-howitzer, and anti-tank guns, such as the 17 pounder.
Although its sloped sides suggest otherwise, the Quad was not armoured.
It saw service in the British Army throughout the war in all theatres.
Prodotto da assemblare e dipingere, colla e colori non inclusi