21.09.2023

Perfetto, arrivati subito

21.09.2023

Tutto perfetto

20.09.2023

Venditore serio e affidabile! Top

20.09.2023

tutto ok venditore consigliato

20.09.2023

tutto ok venditore consigliato
Elenco completo »
Bolt Action British Daimler Dingo MKII Scout Car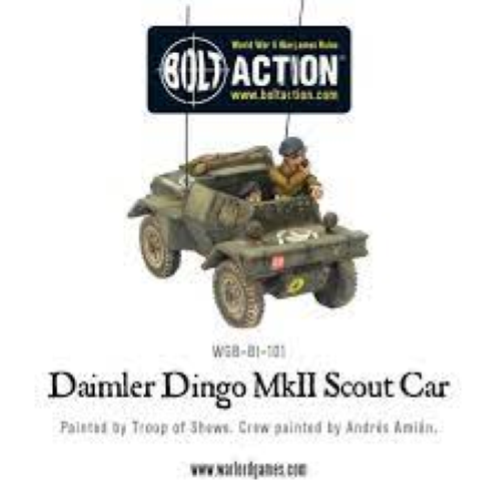 Prezzo:

€ 23,50

Sconto 10%

€

21,15

Iva inclusa (22%)

Spese di trasporto:
Cod. art.:
WGB-BI-101
Disponibilitą:

Disponibile

Quantitą:
Descrizione
Scale: 28mm - 1/56th
1 Vehicle
Resin and Metal
One of the most widespread scout cars in the British and Commonwealth armies. The Dingoes were the unsung heroes of the armoured and infantry division's reconnaissance regiments as well as the army level recce regts! Fast and light; they may not have had much of a punch being only equipped with a single Bren gun, but they could make sure you were well away by the time Jerry went to deliver his punch!
In North West Europe the armoured car recce regiments used Dingoes at all levels. The light troop used 2 Daimler Dingoes and 2 Daimler armoured cars. The heavy troop had a single Dingo with two AEC armoured cars.
Prodotto da assemblare e dipingere, colla e colori non inclusi