21.09.2023

Perfetto, arrivati subito

21.09.2023

Tutto perfetto

20.09.2023

Venditore serio e affidabile! Top

20.09.2023

tutto ok venditore consigliato

20.09.2023

tutto ok venditore consigliato
Elenco completo »
Bolt Action British Daimler AEC Armoured Car MCKIII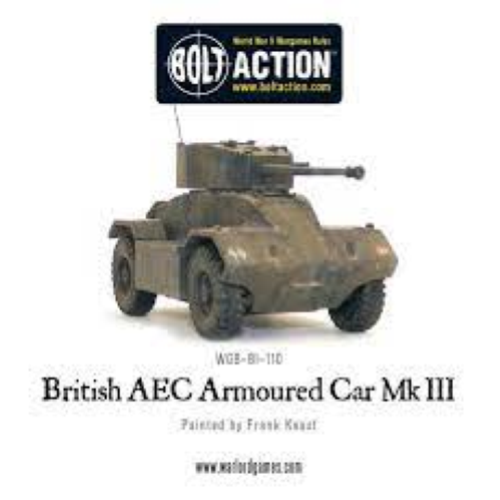 Prezzo:

€ 34,00

Sconto 10%

€

30,60

Iva inclusa (22%)

Spese di trasporto:
Cod. art.:
WGB-BI-110
Disponibilitą:

Non disponibile

Quantitą:
Descrizione
Scale: 28mm - 1/56th
1 Vehicle
Resin/Metal
Requires Assembly
Mounting a potent 75mm gun the mk III AEC armoured car was probably the most heavily armed recce vehicle of WWII.
The earlier Mk II carried the 6 pounder (57mm) gun and can be found here.
The 'heavy' troop in a recce squadron would comprise 2 AEC armoured cars and a single Daimler scout car.
Contains parts to build the Mk III version:
Resin hul and turret
Metal gun, machine gun and wheels
Prodotto da assemblare e dipingere, colla e colori non inclusi