21.09.2023

Perfetto, arrivati subito

21.09.2023

Tutto perfetto

20.09.2023

Venditore serio e affidabile! Top

20.09.2023

tutto ok venditore consigliato

20.09.2023

tutto ok venditore consigliato
Elenco completo »
Bolt Action British Chevrolet CMP C60L 3 ton truck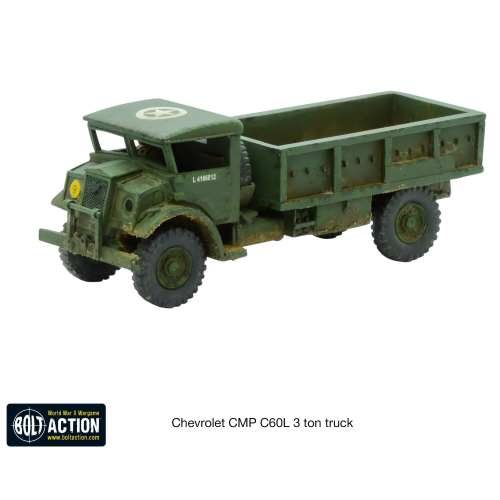 Prezzo:

€ 34,00

Sconto 10%

€

30,60

Iva inclusa (22%)

Spese di trasporto:
Cod. art.:
405101018
Disponibilità:

Non disponibile

Quantità:
Descrizione
Scale: 28mm - 1/56th
1 Vehicle
Metal and Resin
CMP (Canadian Military Pattern) trucks were a broad range of military soft skin vehicles produced in Canada for the armies of the British Commonwealth during the Second World War.
The Chevrolet C60L 3-ton 4x4 truck, along with the nearly identical models built by Ford, accounted for over 200,000 of the over 850,000 trucks built in Canada during World War II – the Canadians providing the majority of the motorised transport for the British Empire during the war. The C60 series 4x4s were the most versatile of all the CMP trucks and many body types were produced including ambulance, gas tanker, water bowser, cipher office (coding/decoding communications), senior officer box-van, dental clinic, wrecker, kitchen and general cargo versions. Many C60 4x4s with modifications for Arctic use were produced and shipped to Russia in 1943-44 as part of Canada's Billion Dollar Gift & Mutual Aid program.
Contains one resin & metal vehicle, with stat card and damage markers.
Prodotto da assemblare e dipingere, colla e colori non inclusi