21.09.2023

Perfetto, arrivati subito

21.09.2023

Tutto perfetto

20.09.2023

Venditore serio e affidabile! Top

20.09.2023

tutto ok venditore consigliato

20.09.2023

tutto ok venditore consigliato
Elenco completo »
Bolt Action Japanese Type 91 So-Mo Armoured Car (Railroad)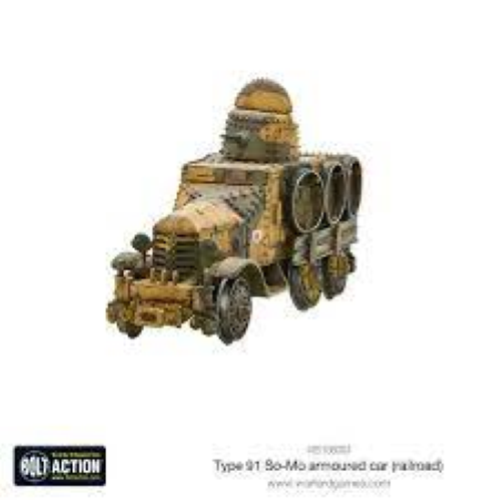 Prezzo:

€ 34,00

Sconto 10%

€

30,60

Iva inclusa (22%)

Spese di trasporto:
Cod. art.:
405106004
Disponibilitą:

Non disponibile

Quantitą:
Descrizione
Scale: 28mm - 1/56th
Metal Resin
Also referred to as the Type 91 broad-gauge railroad tractor, the So-Mo has the unusual distinction of being able to quickly switch from road to rail. The So-Mo and its six crew could achieve speeds of around 25 miles per hour on roads and almost twice that on railroads.
Fielded by both the Imperial Japanese Army and the SNLF during World War II, the six-wheel-drive So-Mo also served in the 1937 Japanese invasion of China. The vehicle did not have integral weapons, but the crew often carried a 7.7mm machine gun that was fired through the observation ports in the turret.