24.09.2023

Servizio top

22.09.2023

Acquisto rapido, tutto come promesso A+++

22.09.2023

PERFETTO

22.09.2023

tutto perfetto

22.09.2023

Ottimo prodotto, venditore cortese e disponibile, pronto a risolvere qualsiasi problematica.
Elenco completo »
Bolt Action Sd.Kfz 250 (Alte) Half-Track (250/1, 250/4 or 250/07)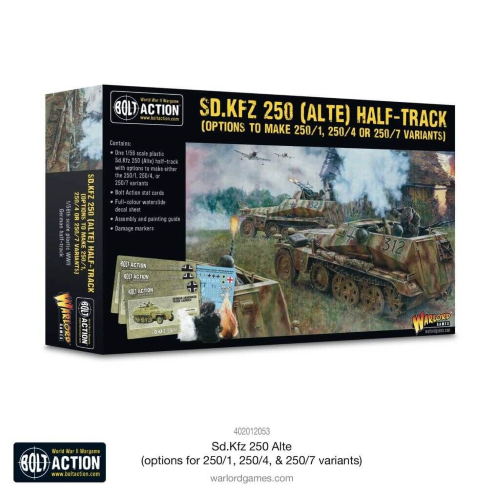 Prezzo:

€ 25,00

Sconto 10%

€

22,50

Iva inclusa (22%)

Spese di trasporto:
Cod. art.:
402012053
Disponibilitą:

Disponibile

Quantitą:
Descrizione
Scale: 28mm - 1/56th
1 Vehicle
Plastic
This product is supplied unassembled and unpainted. Glue and paints not included.
The Sd.Kfz 250/1 was a reconnaissance and transport half-track mainly used by scout and HQ units. The vehicle was a shortened version of the ubiquitous Sd.Kfz 251 Hanomag series and much like its longer cousin there were many variants fulfilling different roles, such as cable carriers, ammunition carriers, and radio carriers, amongst others. It carried six men including the driver and the co-driver and was armed with two pintle-mounted MG34 machine guns, one shielded facing forward and the other covering the rear and air.
The model included in this set is based on the original 'Alte' (old) version which served through World War II, despite the 'Neu' (new) version beginning to be introduced from late 1943.
There are enough parts to build one of the following versions:
Sd.Kfz 250/1 - the standard version of this armoured half-track.
Sd.Kfz 250/4 - a prototype anti-aircraft variant, armed with twin-mounted MG34s, that never reached full production.
Sd.Kfz 250/7 - a variant carrying an 8.1cm mortar for rapid re-deployment of infantry support weaponry.
Includes one plastic Sd.Kfz 250 (Alte) half-track, Bolt Action stat cards, full-colour waterslide decal sheet, assembly & painting leaflet, and vehicle damage markers.