30.05.2023

Oggetto arrivato nei tempi prestabiliti e nelle condizioni descritte

29.05.2023

Spedizione veloce e ottima qualitá

26.05.2023

Puntuali, rapidi e gentili. Ormai le bustine le prendo solo qui ??

26.05.2023

ECCELLENTE VENDITORE : IL TOP IN MERITO A CURA, RAPIDITÀ E QUALITÀ DEL PRODOTTO. [...]

25.05.2023

Ottima comunicazione, disponibilità e cortesia. Grazie
Elenco completo »
Black Powder Epic Battles La Haye Sainte Scenery Pack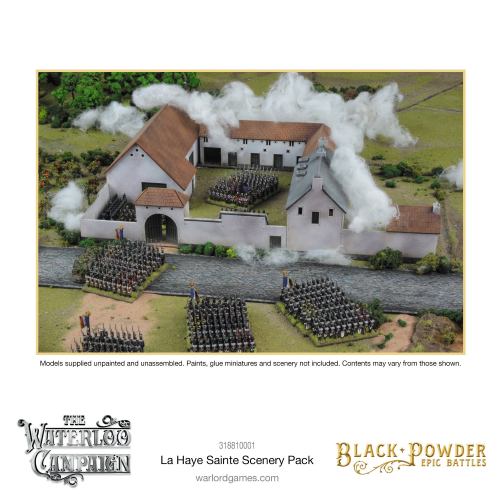 Prezzo:

€ 36,00

Sconto 10%

€

32,40

Iva inclusa (22%)

Spese di trasporto:
Cod. art.:
318810001
Disponibilità:

Disponibile

Quantità:
Descrizione
This scenery pack provides one of the most famous buildings in military history - the farmhouse at La Haye Sainte. An anchor to the Allied army's left flank and vital communication line to his Prussian allies, the epic struggle at La Haye Sainte is now the stuff of legend, with its garrison of the King's German Legion and their allies clinging on grimly against massed French infantry assaults.
Prodotto in MDF tagliato a laser.
Prodotto da assemblare e dipingere.
Colla e colori non forniti