29.09.2023

Ottimo venditore serio e affidabile

29.09.2023

Spedizione fantastica come sempre. Super consigliato!

29.09.2023

Excellent seller, fast and well packed.

29.09.2023

Eccetto una attestazione di consegna pacco alcuni giorni prima da parte di Poste Italiane, è andata tutto bene

29.09.2023

Perfect!
Elenco completo »
AK Interactive Snow Sprinkles 100ml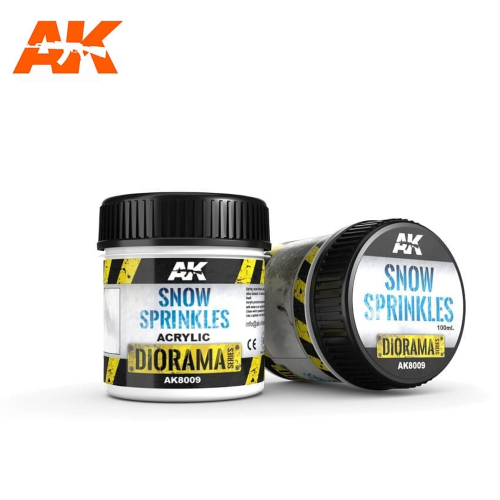 Prezzo:

€

10,40

Iva inclusa (22%)

Spese di trasporto:
Cod. art.:
AK8009
Disponibilità:

Disponibile

Quantità:
Descrizione
Spring snow texture used to achieve ultra-realistic thin layers of snow. Snow sprinkles is a versatile product that can be used on its own; it also combines perfectly with AK8011 Snow Terrains. This is a high quality acrylic product developed for extreme realism. The drying time takes from 2-4 hours depending on the amount applied and temperature.
Acrylic product to achieve snow texture. Perfect result in thin layers. It can be diluted with water or an acrylic thinner to improve its flow. No toxic