21.09.2023

Perfetto, arrivati subito

21.09.2023

Tutto perfetto

20.09.2023

Venditore serio e affidabile! Top

20.09.2023

tutto ok venditore consigliato

20.09.2023

tutto ok venditore consigliato
Elenco completo »
Army Painter Warpaints D&D Nolzur's Marvelous Pigments Adventurers Paint Set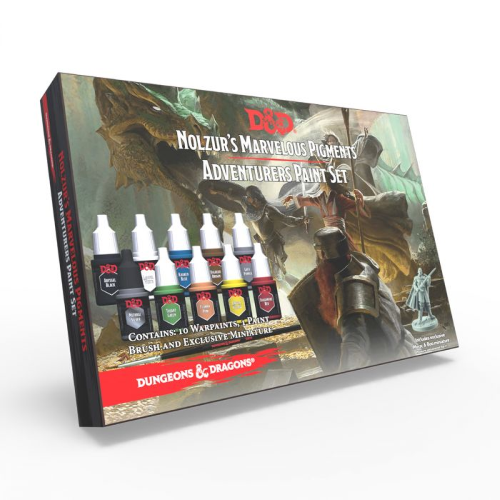 Prezzo:

€

29,99

Iva inclusa (22%)

Spese di trasporto:
Cod. art.:
AP75001
Disponibilità:

Disponibile

Quantità:
Descrizione
Adventurers Paint Set è un set di colori della The Army Painter per le miniature di Dungeons & Dragons della serie Nolzur. Questo set appositamente pensato per gli appassionati del gioco di ruolo, contiene 9 boccette di colori non metallici e 1 metallico, 1 pennello e 1 miniatura esclusiva di Mins e Boo della serie Nolzur.
La gamma di colori ed inchiostri The Army Painter vi darà la possibilità di rendere uniche le vostre miniature, grazie ad un livello di qualità del prodotto che vi permetterà di valorizzare i dettagli delle miniature. I colori The Army Painter hanno una consistenza del prodotto idonea ad un loro utilizzo sia da parte di hobbysti esperti che di quelli alle prime armi.
I prodotti The Army Painter per il modellismo presentano un ottimo compromesso tra spesa e qualità, oltre a garantire un'altissima resa ed un alta durabilità nel tempo. Particolarmente apprezzati sia da neofiti che da veterani del modellismo, la gamma The Army Painter è senza dubbio una delle più diffuse tra tutti gli hobbysti di questo settore.
Set Colori: D&D Nolzur - Adventurers Paint Set è un accessorio per modellismo realizzato da The Army Painter.