21.09.2023

Perfetto, arrivati subito

21.09.2023

Tutto perfetto

20.09.2023

Venditore serio e affidabile! Top

20.09.2023

tutto ok venditore consigliato

20.09.2023

tutto ok venditore consigliato
Elenco completo »
Army Painter Most Wanted Brush Set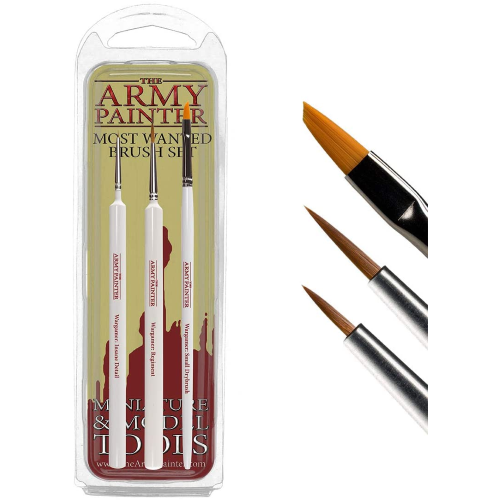 Prezzo:

€

22,99

Iva inclusa (22%)

Spese di trasporto:
Cod. art.:
TL5043
Disponibilità:

Disponibile

Quantità:
Descrizione
Set di 3 pennelli della serie Most Wanted indicati per dipingere anche i più piccoli dettagli delle miniature ed utilizzare le tre tecniche di base: basecoating, dettagli e drybrushing. Il pennello da dettaglio e quello standard hanno il famoso manico triangolare per una migliora presa dello strumento.
La gamma di pennelli The Army Painter vi darà la possibilità di rendere uniche le vostre miniature, grazie ad un livello di qualità del prodotto che vi permetterà di utilizzare al meglio la selezione di colori disponibili.
I prodotti The Army Painter per il modellismo presentano un ottimo compromesso tra spesa e qualità, oltre a garantire un'altissima resa ed un alta durabilità nel tempo. Particolarmente apprezzati sia da neofiti che da veterani del modellismo, la gamma The Army Painter è senza dubbio una delle più diffuse tra tutti gli hobbysti di questo settore.
Pennelli: Wargamers Most Wanted è un accessorio per modellismo realizzato da The Army Painter.