26.05.2023

Puntuali, rapidi e gentili. Ormai le bustine le prendo solo qui ??

26.05.2023

ECCELLENTE VENDITORE : IL TOP IN MERITO A CURA, RAPIDITĄ E QUALITĄ DEL PRODOTTO. [...]

25.05.2023

Ottima comunicazione, disponibilitą e cortesia. Grazie

25.05.2023

Venditore da 10 in pagella consigliatissimo! oggetto arrivato in tempo brevi con imballaggio a prova di bomba! Grazie [...]

25.05.2023

Estrema gentilezza. Grazie ancora.
Elenco completo »
Ammo of Mig Set di 4 Pennelli per la Pittura di Figurini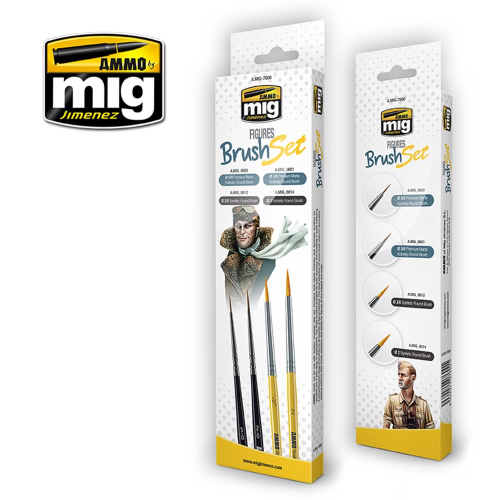 Prezzo:

€

27,80

Iva inclusa (22%)

Spese di trasporto:
Cod. art.:
AMIG7600
Disponibilitą:

Non disponibile

Quantitą:
Descrizione
Contains both Premium Kolinsky Sable and Synthetic brushes for versatility and a wide range of applications.
The ideal set of brush sizes for all aspects of figure painting, this selection of round brushes is ideal for accurately painting uniforms, flesh tones, weapons, and details for figures of any subject and scale.
This set contains the following AMMO brushes:
A.MIG-8600 - 5/0 PREMIUM MARTA KOLINSKY ROUND BRUSH
A.MIG-8601 - 2/0 PREMIUM MARTA KOLINSKY ROUND BRUSH
A.MIG-8612 - 2/0 SYNTHETIC ROUND BRUSH
A.MIG-8614 - 2 SYNTHETIC ROUND BRUSH