21.09.2023

Perfetto, arrivati subito

21.09.2023

Tutto perfetto

20.09.2023

Venditore serio e affidabile! Top

20.09.2023

tutto ok venditore consigliato

20.09.2023

tutto ok venditore consigliato
Elenco completo »
Ammo of Mig Glossy Lucky Varnish 60ml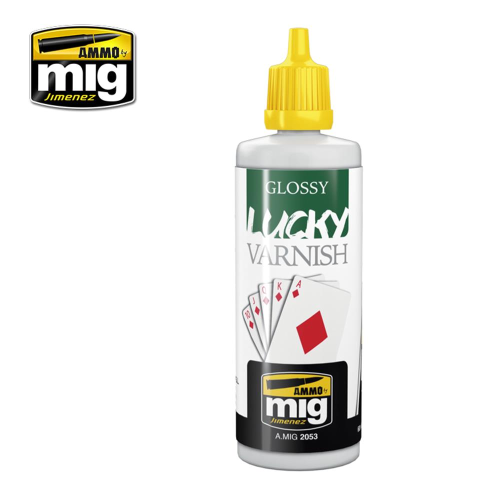 Prezzo:

€

5,25

Iva inclusa (22%)

Spese di trasporto:
Cod. art.:
AMIG2053
Disponibilitą:

Non disponibile

Quantitą:
Descrizione
This new varnish range was carefully developed over a lengthy period to ensure the modeler a perfect result every time. Don"t take your chances, use LUCKY VARNISH, a winning product that will rule out any mishap that may occur when using ordinary varnishes. Available in all the usual finishes used in scale modeling, from high gloss to dead flat.
Easy to use and simple to clean. Incredible transparent finishes for all of your models, and accurate for all subjects. Will not yellow or alter colors. Perfect for both brush and airbrush.
1- Using an airbrush, apply in light and short passes using 1.2 bar (17psi) air pressure, avoiding build up.
2- Let dry at least 5 minutes between coats. Do NOT flood the surface.
3- Let it dry completely for 12 hours.
No thinning needed. Clean with water